Friday, June 8, 2018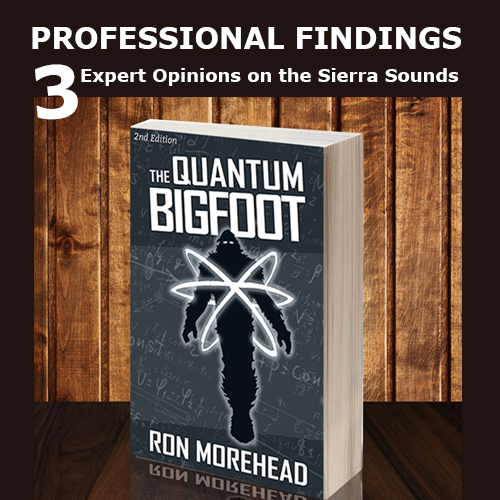 Sasquatch is elusive. It makes sense that proof of Sasquatch is equally elusive. It is fair to say we do not have proof of Sasquatch, but we have plenty of evidence. Most prefer visual evidence in the form of photos and film, but it can be argued that the strongest evidence we have of Sasquatch is audio. You would expect a website that sells a product about bigfoot audio would make that argument, but in all honesty the argument is based on the scrutiny of the evidence. Several professionals from different and distinct disciplines have investigated the Bigfoot Recordings from Sierra Sounds and have come up with the same conclusion. These tapes have not been physically tampered with and the sounds are not capable of being made from humans.
There is a haunting feeling when most hear the Sierra Sounds recorded by Ron Morehead. If left to your instincts and gut, you would be confident that you are hearing the chatter of a unique intelligence. Fortunately, we also have professional expertise that can verify the authenticity to these recordings and also shed some light on why the sounds are so unique.
What the Experts Say
First, we have the physical scrutiny of the tapes not being tampered with or the recordings being electronically manipulated by a professor of electrical engineering; then we have a human sound expert that explains how humans are not biologically capable of making the sounds heard on the tape. We just simply do not have the physical traits to make those noises. Finally, a Navy expert in decoding hidden languages finds syntax and vocabulary in the chatter.
All these experts come with impressive credentials and you will be amazed at the level of scrutiny each expert goes through to investigate the Sierra Sounds. Read chapter 12 and learn how…
A PROFESSOR OF ELECTRICAL ENGINEERING SAYS NO PHYSICAL TAMPERING
A HUMAN SOUND EXPERT SAYS NO HUMAN CAN MAKE THESE SOUNDS
A NAVY CRYPTOLINGUIST FINDS LANGUAGE AND SYNTAX
The Quantum Bigfoot is available in print or get it instantly as an e-book through digital download.